Our bush setting is unique. Click image below to see more. Please allow time to load all the images.
Click image to see more.
The sun rising over the Chapel.
The camp from above on our Bald Spur Walk
Our Bush Chapel is a unique wedding venue.
View from bridge to "girls dorms".
A haven for native birds.
The wire bridge over the stream (supervision is a must).
The 'Stables' have 1 x 1 bed, 1 x 2 beds and 1 x 3 beds.
Part of our confidence course over looking the stream.
Part of the "girls dorm" with adult room attached.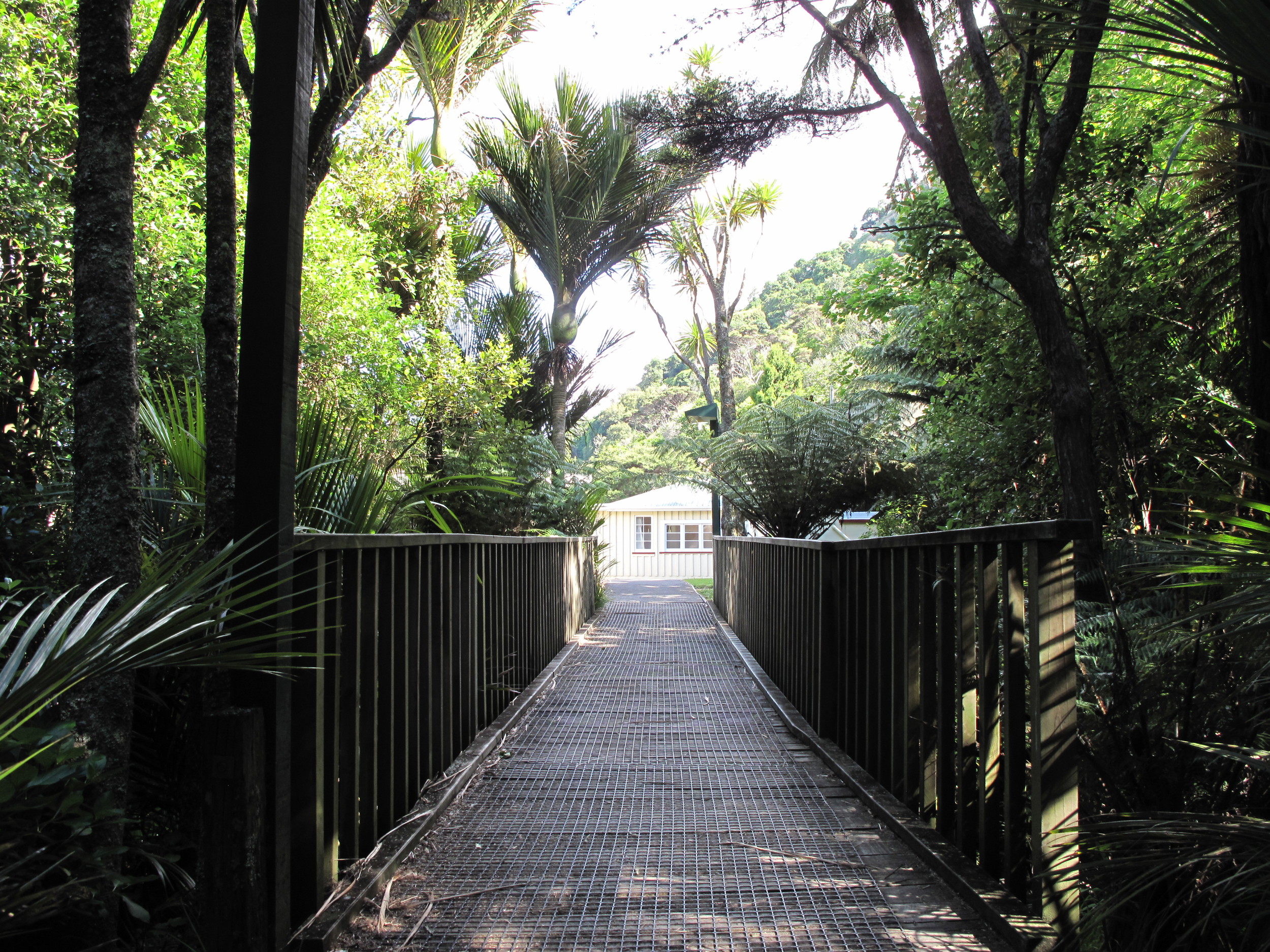 The bridge looking towards the camp kitchen.
A small medical room is available with bed, desk, sink and fridge.
On the west side of the camp there are a total of 5 Adult rooms (total 6 beds) a adult shower, bath and toilet block.
The gas BBQ is free, please clean well and see caretaker for access.
Dame Hilda's cottage has a large bedroom with sink, 1 single and one double bed. It also has a separate toilet.
Adult room behind the medical room has two single beds.
View of camp dinning hall from flag pole.
A small office has one bed, a desk, a phone and a lockable cupboard.
Our 'new' block has three bedrooms with 2 beds each and a fourth room with full bathroom.
Interior shots. Click image below to see more.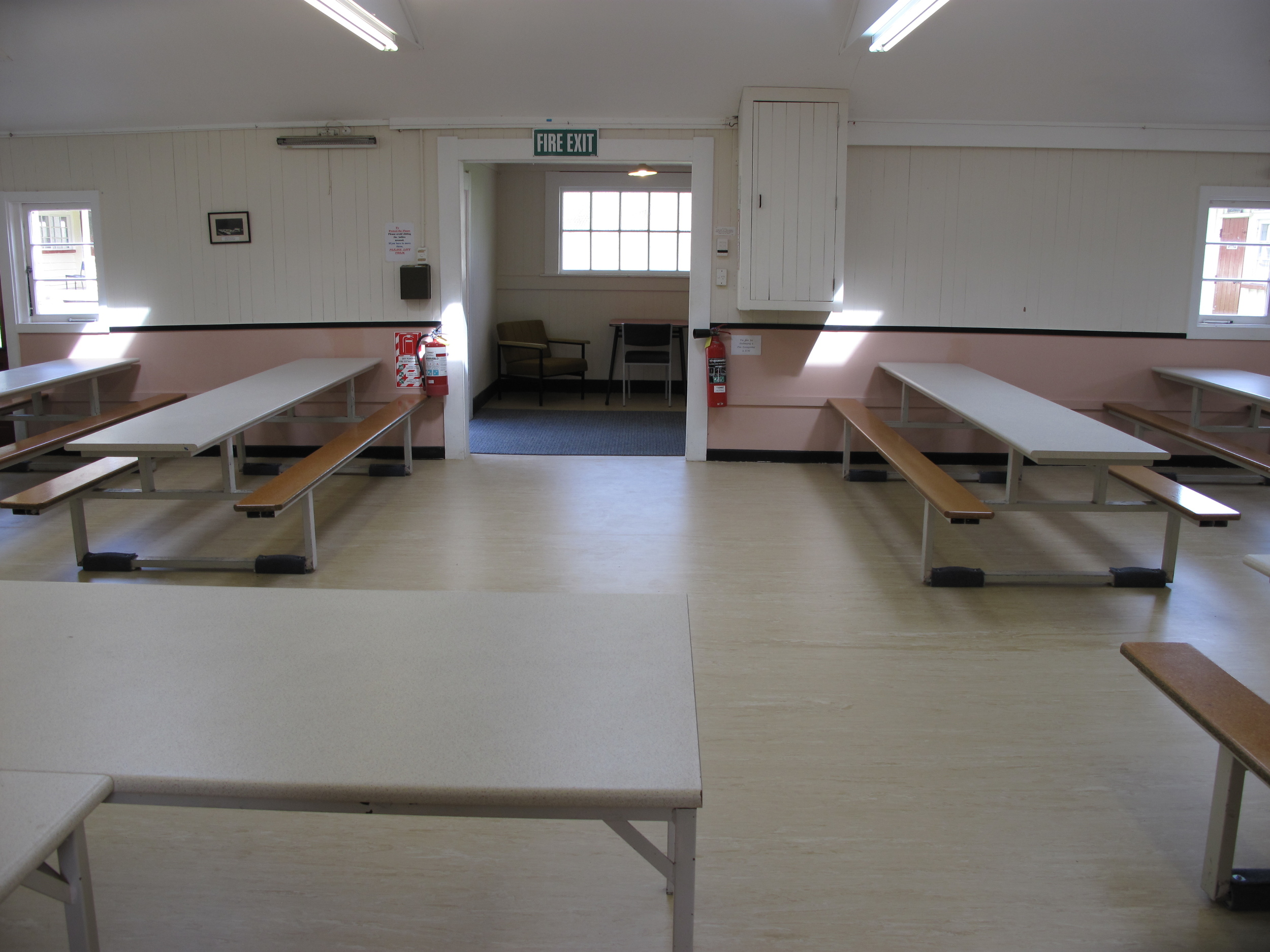 2 fridges, 2 freezers and a walk in chiller. Pots, pans and trays all supplied.
Our Kitchen is up to the job. All pots and pans are supplied. Gas and electric cookers etc.
Click image to see more.
Our 4 dorms sleep a total of 100. (bedding required).
The boiler supplies only the kitchen with hot water. The wood is supplied by the Trust. Brooms, buckets, mops etc are also supplied. Remember, this is a self help camp, you will need to bring everything else you will need.
Adult Rooms are neat and tidy with side cabinet and mattress protector.
Adult room with brush, pan and broom supplied.
Most areas have disabled access. All adult disabled / adult showers have constant hot water.
Our photograph museum is packed with photos over the ages, fossils and interesting information.
Good for study. Has a projector screen at the back if required.
All children's showers are on a timer to save hot water.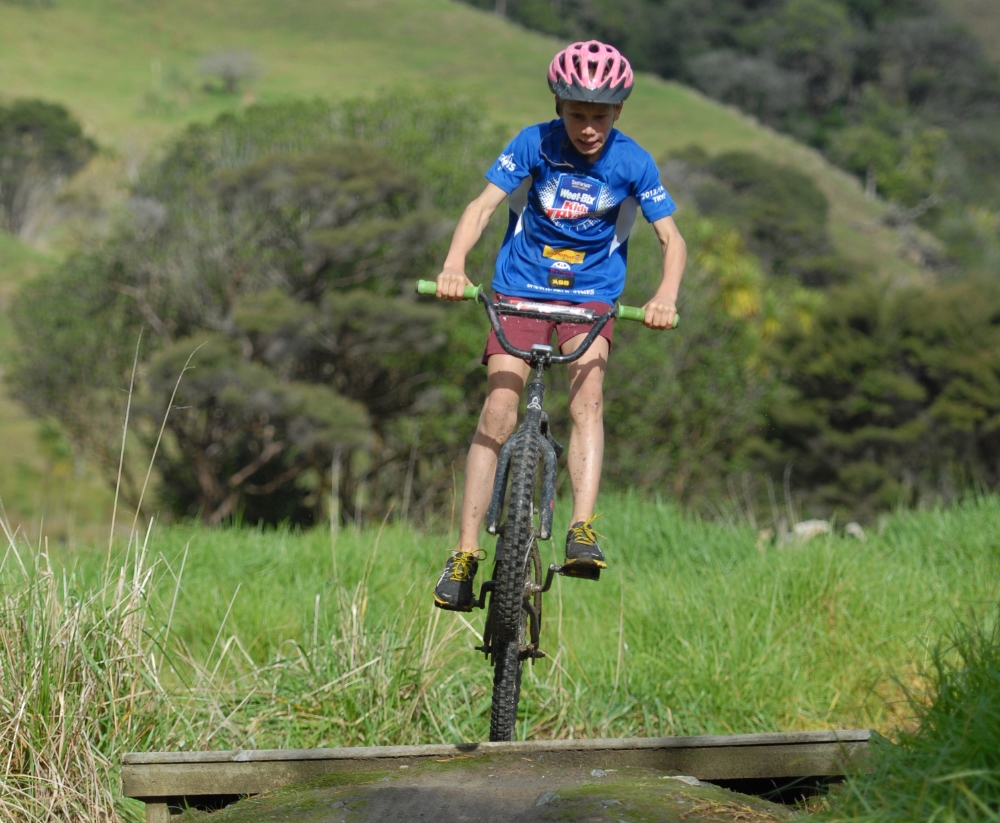 "Mamma Bear" Our medium difficulty abseil. (DBV)
Click image to see more.
Our climbing wall with low ropes to the right and a trampoline in the foreground. Toilets and laundry block on the left. Climbing wall instructors can be found on our Activities page.
Frisbee golf is available.
A five minute walk to the Wharf Store. Good fishing is possible.
Volley Ball is available but remember to bring a ball.
There are great bays to kayak, various providers are listed on our site.
We have a great BMX track, we can supply 4 bikes and helmets. Please do not use the bikes around the camp, only for use on the track. The bikes and track are not suitable for adults.
Archery is one of our most popular activities. Four targets are available with full sets of bows and arrows.
Petaunque sets are available for free on request.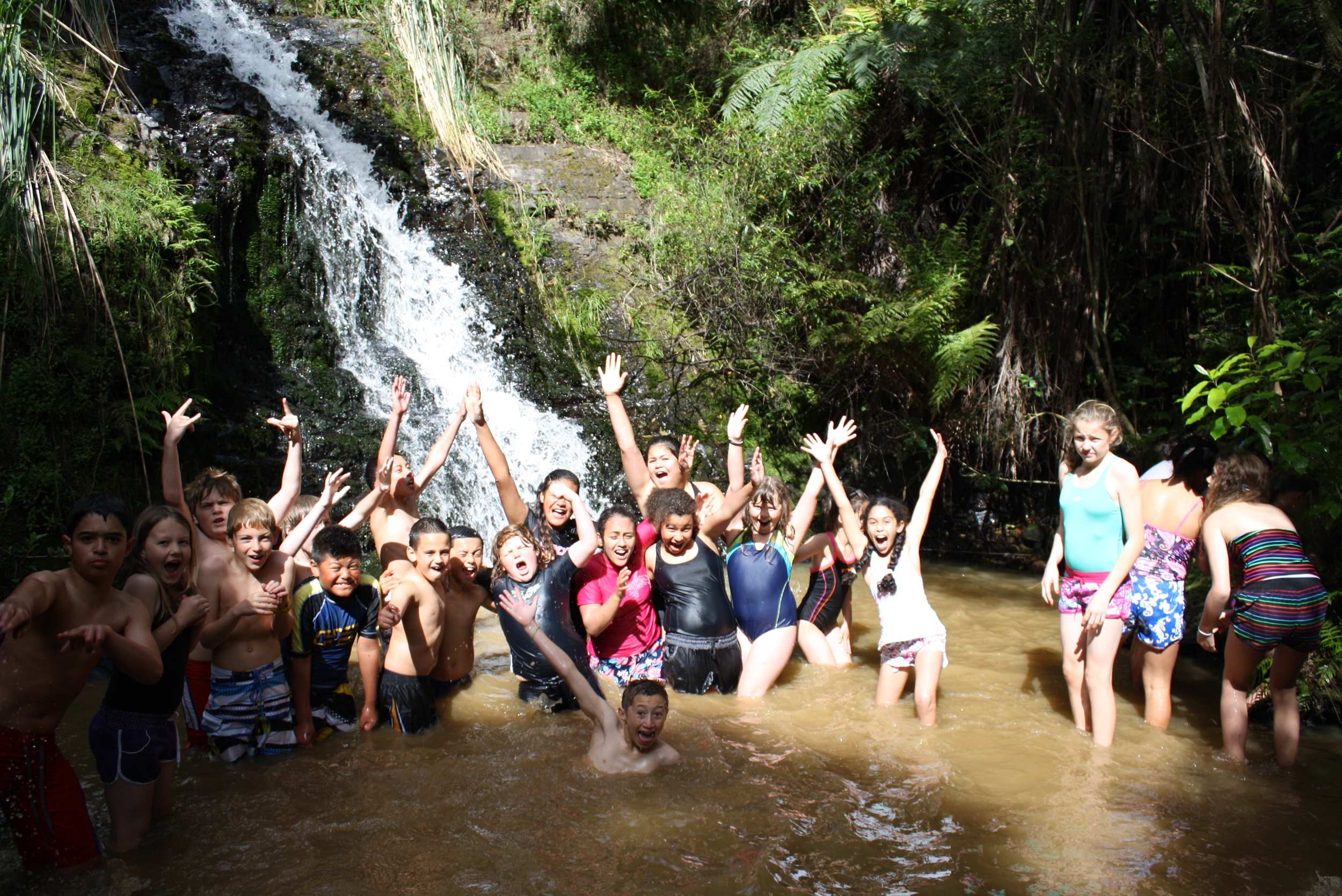 Camp 2 has a 30 minute walk to spectacular water falls.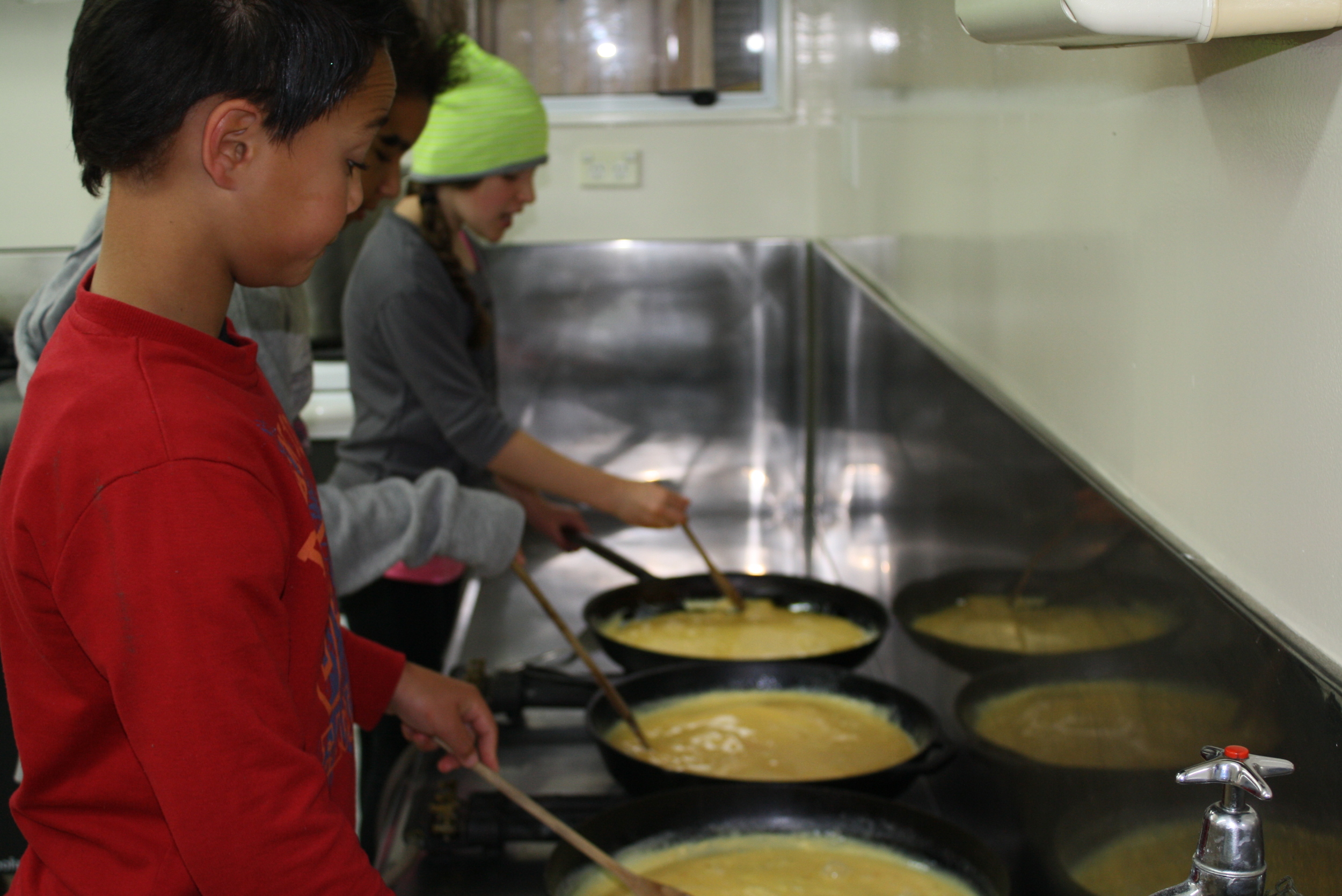 Kids can learn a whole range of skill here. Washing up included.
The sand dunes are huge and a great place to learn about the coast.
Camp fires (with permit) are a camp classic activity. Please supply your own wood. 2 port-a-loos are available for camping and abseiling.
With 14 kids tents, 3 adult tents, 2 port-a-loos, cutlery, plates, cups, bowls, fire forks, ax, spade and packs all available, camps are a breeze.
You MUST contact Peter the farm manager on 09 232 9883 if you plan to use the campsite for any reason.
Its not called Sun Set Beach for nothing
Stephen Chibnall from the Hamilton Astronomical Society.
Mud rugby or mud sticks is a great game on low tide. (DBV)
The top of Bald Spur (DBV)